Reliable service 
Engineered for toughness
Complete turn-key systems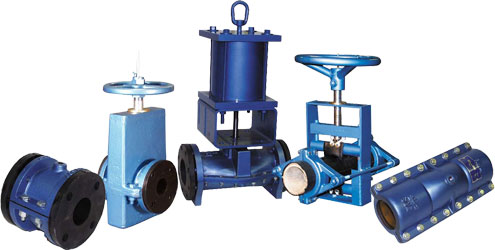 Evolutionary principle
RKL Pinch Valves are the result of over 40 years of evolutionary engineering technology based on a simple, yet effective flow control principle. A molded, elastomeric sleeve is linked to a simple, direct action mechanism that closes a valve with a pinching action. Shut off is drop tight and there are no valve seats or packing glands to leak. The positive opening feature assures proper valve operation under all conditions and allows precise throttling action.
A broad range of sizes, constructions, sleeve materials  and actuator types can satisfy the flow control service requirements of practically any industry application, performing with unchallenged reliability in such difficult services as corrosive and abrasive slurries, chemicals, waste waster treatment, hydrocarbons and petrochemicals, air-conveyed materials, high temperature fluids (up to 400 degrees F), foodstuffs and pharmaceuticals.
RKL Pinch Valves are backed by the technological expertise and solid reputation of Red Valve Company., Inc., a worldwide manufacturer of superior quality control and pinch valves. A broad range of sizes, constructions, sleeve materials and actuator types satisfy your flow control demands.