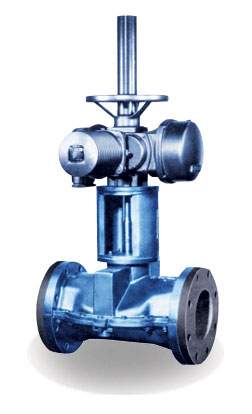 Menu-Electrically Actuated Control Valve
Features
Pre-pinched design provides linear flow characteristics
Available with a choice of electric actuators
No packing to maintain or replace
Split housing for easy sleeve replacement
Long cycle life
Throttling or on/off service
Materials of construction
ANSI Class 125/150
Cast-iron, aluminum or ductile-iron body
Sleeve available in Pure Gum Rubber, Neoprene, Hypalon, Chlorobutyl, Buna-N, EPDM and Viton
Description
The Series LEF pre-pinched control valve offers excellent linear flow characteristics. Precise control is easily obtained at valve openings from 15% to 80%. 
The smooth, unobstructed design of the Series LEF pinch valve provides very low restriction to the media flow path, reducing the possibility of unwanted turbulence and virtually eliminating plugging. Being a high recovery valve, the pinch valve contributes very little pressure loss to the system when in the full open position. 
Cavitation is a problem engineers often encounter when designing control systems. Although extremely detrimental to most metal valves, normal cavitation creates little difficulty for an RKL Pinch Valve. The design of the valve and length of the sleeve reduce the possibility of cavitation. The pinched center portion of the sleeve tends to send cavitation liquid to the center of the flow stream long enough to prevent bubbles from impinging on the sleeve walls. The sleeve extends well past the vena contracta, confining cavitation to within the valve itself, thus reducing damage to companion piping. When severe cavitation does cause contact on the sleeve wall, the elastomer not only offers greater resistance to damage than most standard metals, but also helps to reduce vibration noise.