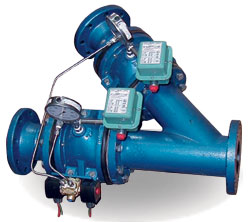 Menu-Ready to Install Diverter Assembly
Features
Ease of installation
Ease of Maintenance
Long Cycle Life
Designed for Abrasives and Slurries
1" thru 8" Line Sizes
Materials of construction
Valve Bodies: Cast Iron or Aluminum
Spool pieces: Cast Iron
Sleeves available in: Pure Gum Rubber, Neoprene, Buna-N, Chlorobutyl, Hypalon, EPDM, Viton and Food Grade EPDM,
Description
The Series DVA from RKL Controls is a complete, ready-to-install diverter valve assembly. The Series DVA consists of an ANSI 125# flanged 45° Y-pipe, leading to (2) Series SG air-operated pinch valves, each finished with a flanged spool piece. The unit is controlled through a 4-way dual-solenoid. Each valve is equipped with a pressure gauge for a local visual indication of valve position, and a pressure transmitter to provide remote electronic indication of valve position. The dual-solenoid allows the assembly to be operated traditionally with one valve opening as the other closes, or independently allowing either valve to be opened or closed as the operator chooses.
The heart of the Series DVA is the Series SG pinch valve from RKL Controls. The SG is completely self-continued and requires no external actuator. Air pressure within the body of the valve pinches an elastomer sleeve closed. The sleeve is abrasion resistant and comes in a range of synthetic elastomers. Since there are no moving parts within the Series SG, cycle life is extremely high.
By providing a complete assembly, RKL Controls simplifies the task of adding a diverter to a piping system. Compared to other diverter valves that use an external actuator and geared operating mechanism, the Series DVA is lighter, more flexible and easier to maintain. The Series SG valves can be removed from the assembly independently so wear on one side of the diverter will not affect the performance of the other.
Typical Applications for the Series DVA include mixing, blending, pH Control, filling and loading. The Series DVA is equally capable on dry powders, wet slurries, abrasives and pure liquids.