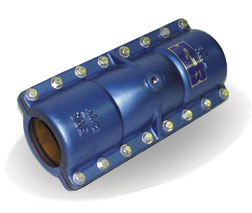 Menu-Air Operated Pinch Valve
Features
Full-port opening
Totally enclosed
Pneumatically or hydraulically operated
Long cycle life
Easy, slip-on installation
No maintenance
Inexpensive sleeve replacement
No moving parts
Materials of construction
Aluminum body
Sleeve available in Pure Gum Rubber, Neoprene, Hypalon, Chlorobutyl, Buna-N, EPDM and Viton
Description
Series SGE Pinch Valves are operated by applying hydraulic or pneumatic pressure to the annular space surrounding the elastomeric sleeve. No external actuator is required. Other than the elastomeric sleeve, there are no moving parts in the Series SGE.
Air supply to close the valve must be approximately 20-30 PSI higher than line pressure in order to ensure full closure of the valve. Over pressurization may cause premature failure. Pneumatic or hydraulic pressure must be regulated.
Although primarily used in on-off service, SGE valves can provide approximate flow control using a booster relay. Vacuum conditions can be overcome by application of a vacuum generator or other vacuum source to fully open the valve.
Optional accessories include a pressure-reducing valve, a 3-way solenoid valve, air pressure gauge, booster relay and vacuum generator.